The newest book in the Jamie is Jamie series is called, Jamie's Class Has Something to Say: A Book About Sharing with Grown-Ups. This picture book isn't directly concerned with gender, but instead it focuses on the need to create spaces where young children feel confident and safe to share their thoughts with the grown-ups in their life.
Why choose the topic of self-advocacy?
I can't think of anything more important than children of all ages feeling respected and validated for who they are as individuals. Just as we want our kids to feel comfortable to tell us how they identify and what pronouns they'd like us to use, we need our kids to tell us when they are in trouble or when there's a problem.
Kids experience a lot of anxiety and insecurity when they hold things in instead of sharing or asking for help. Jamie's Class Has Something to Say is my gift to children and adults to begin to have conversations that may have previously felt uncomfortable or impossible.
Each friend in the book has a chance to talk about a frustrating or disappointing situation they are experiencing with one of their grown-ups. From what to wear to what extracurricular activity to do to how to eat and how to express big emotions, young readers can identify and feel supported in sharing their discomfort with the adult reading the book.
Establishing open, trusting communication with the children in our lives, no matter how young or old, is key to being able to step in or offer guidance when troubling or challenging things come up.
There are a few simple ways to let kids know that you genuinely care what they think and feel.
The first is to ask their opinion. What did they think of a tv show or movie? What did they like about a party they attended?
The second is finding out what kids like and dislike. Truly wanting to know a child's tastes, preferences, and what makes them happy is fundamental to expressing love in ways that validate the individual child and make them feel seen and heard.
The same is true for what a child dislikes and is triggered by, what makes them anxious and what makes them feel scared. Knowing and respecting the negatives are a part of showing respect and support to prevent upset or help them stay regulated when something upsetting happens.
Lastly, when we show kids that we are truly interested in who they are as individuals and their individual, amazing minds, it means that we trust their decision making. Empowering kids to make decisions (meal planning, what to wear, choosing which book to read) builds up their self-confidence and makes them more likely to speak up for themselves and others when needed.
Self-Advocacy is one of the best ways we can protect our children
We want so much to protect our children and keep them safe, but sometimes we forget that, in order to do that effectively, we have to be willing to listen and accept who our kids are as individuals, even if we don't agree with what they think or the choices they make.
Listening and engaging in conversations without judgment or criticism is fundamental to open communication. Jamie's Class Has Something to Say: A Book About Sharing with Grown-Ups is a great tool to use for kids to learn self-advocacy and for adults to have an example of supportive ways to respond when our kids do open up.
Jamie's Class Has Something to Say: A Book About Sharing with Grown-Ups the third book in the Jamie is Jamie series. All three picture books including, Jamie is Jamie: A Book About Being Yourself and Playing Your Way and Jamie and Bubbie: A Book About People's Pronouns, are available on Amazon.com, on the Free Spirit Publishing website, and most bookstores.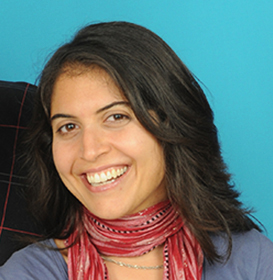 Afsaneh has been teaching for over 15 years from preschool to graduate school, and is often invited to give teacher training workshops and speak at educational conferences. Her vast experience in working with different ages, academic levels, and cultures has given her the ability to work with anyone and help them achieve their learning goals. She is also the author of Jamie is Jamie.